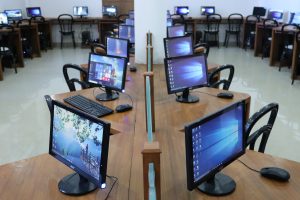 ---
SENIOR COMPUTER LAB
Online practice test for NEET and IIT JEE

40″ LCD TV for demo and Signage Display of Dynamic Content

Firewall subscription and management

Only practical and project based curriculum

Internet access

Fully Air conditioned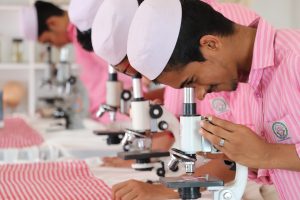 BIOLOGY LAB
State -of- the -art Biology lab

Keeping the latest syllabus in mind, the models of skeleton and other parts of body and necessary chemicals have been stacked based on the latest syllabus.

The lab provides the students with opportunities to look within and look around deeply to develop an understanding of our living world.

Here exploring the scope of environment & evolution becomes much easier

PHYSICS LAB  
A highly spacious, well ventilated ultra modern Physics Lab, fitted with latest equipments ,quality apparatus like bio-gas plant, Model PSLV Rocket…etc. catering to the needs of the students from class I to XII.

Authentic learning through experimentation.

Hi-Fi Technology electrical system & facilitated with well equipped fire safety system

Well trained tutors and lab assistant are yet another asset for the lab.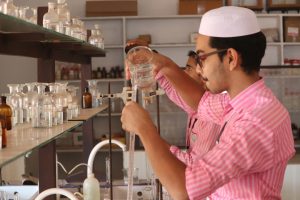 CHEMISTRY LAB
Equipped with all necessary apparatus, chemicals and solutions to give students a first -hand experience of what they learn theoretically.

The lab is fitted with Fume hood & fume cupboard which is a ventilation device that is designed to limit exposure to hazardous or toxic fumes, vapors or dusts.

It is divided into Physical, Inorganic and Organic Sections and it caters to the requirements of students from class one to XII.

Encourages the learners to explore the scope of design and innovation.